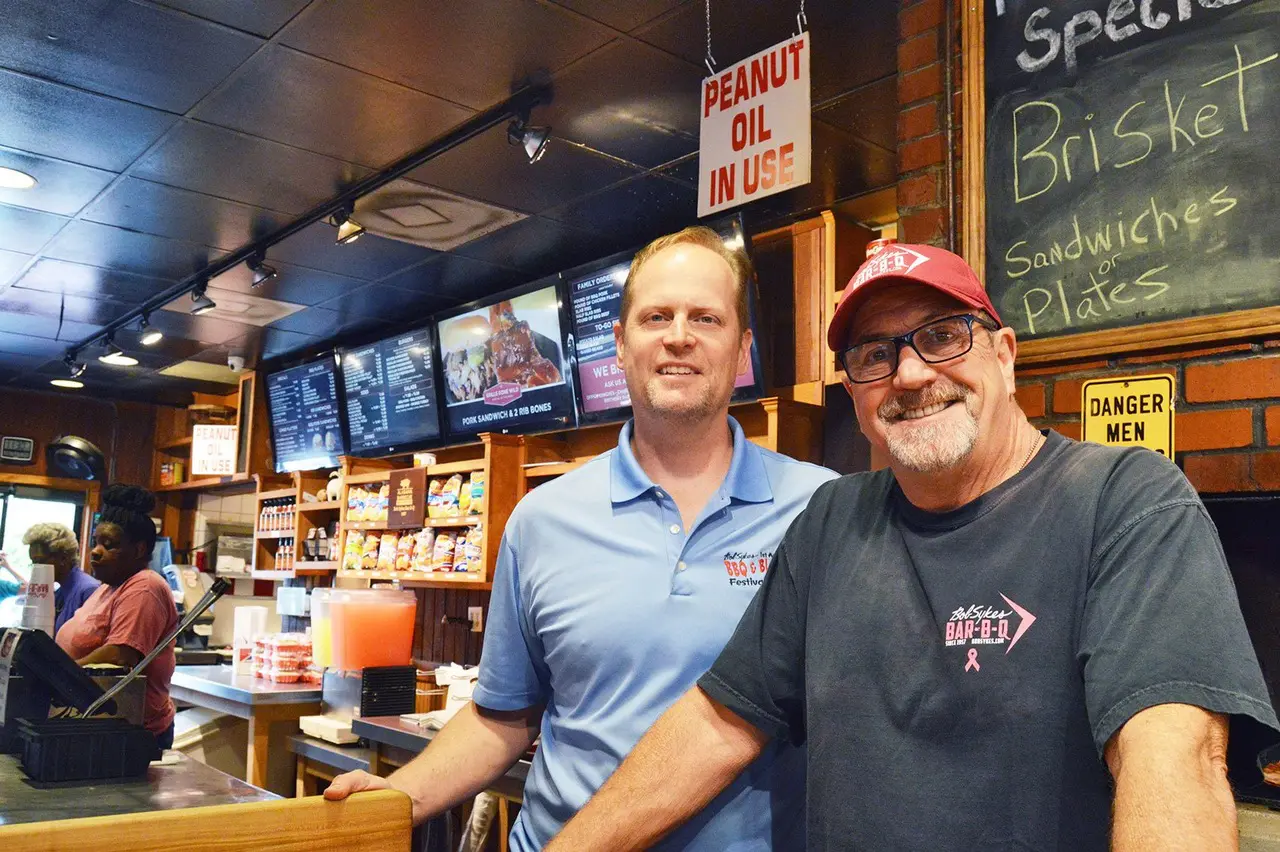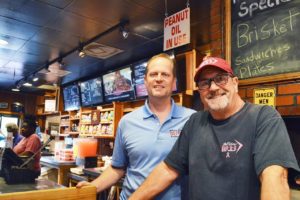 Van Sykes, right, stands with Jason Jewell in front of the barbecue pit and kitchen at Bob Sykes BBQ in Bessemer. Sykes and Jewell are the second and third generation, respectively, to run the restaurant that has been a family business since 1957.
Watch the fire and tend the grill — that's what it all comes down to for good barbecue.
At least that's what Van Sykes, the second generation owner-operator of Bob Sykes BBQ, says.
The Hoover resident has been part of the restaurant business pretty much as long as he can remember. In 1957 his parents bought in to the restaurant business, serving hamburgers and malts at first and eventually moving into the full-service market.
"Nobody knew what to do, really, so what you did is you did a little bit of everything," he said.
Sykes is one of the founding members of the Southern Foodways Alliance and has lived in Hoover since 1994.
His first job, beginning long before he turned 10 years old, was stirring barbecue sauce.
He remembers standing in his parents' restaurant the day Kennedy was assassinated, being a carhop in the days when trays were still affixed to car windows for service and when the idea of specializing in one type of food was laughable.
There was a brief time when his parents, who would one day run more than a dozen franchised barbecue joints, also thought the concept of specializing as a restaurant would mean certain failure.
However, after taking a couple years off due to financial issues and working in a certain fried chicken restaurant made famous by a colonel in white, Sykes said his father had an idea.
"What he realized, which of course still works today — I call this the cornerstone thought — you can specialize in one kind of food," he said, and his parents decided that food would be slow-smoked meat.
Eventually, Sykes said, he moved from the kitchen to helping his mother with the front-of-house work, and at age 14, when his father had a stroke, he became second in command.
"She said 'I'll run the day shift, you run the night shift, you'll go to school and drive your daddy's car,'" he said.
Sykes took a break from the restaurant business at age 18 because his mother wanted him to experience something else. He joined the Air Force in 1973 and served for four years working as a purchasing agent.
Eventually, though, he was pulled back in and took over the business, reducing the footprint to just one store.
The Bob Sykes BBQ that exists today on 9th Avenue North in Bessemer is far from the original concept of a 15-seat shack with an open pit. In 1990, he closed the store for six weeks to expand it to its current size, and that building has lasted ever since.
The key, he said, is to stay focused on what works.
"Barbecue will never be any better than taking it off a grill, and cutting it and serving it," he said. "It's hard to do when you're cooking 2,000 pounds in a day, but we've got 61 years experience. You know when to cook and when to slow down."
Sykes said he is proud to serve only fresh, homemade food, and is happy his nephew Jason Jewell has come on board as the third generation.
"A lot of times, I'm told, that second generation is the one that messes everything up," he said. "So I've felt quite proud that I've been able to grow it."Hoover Sun Article